Or read this in Russian
This year I missed all doll's shows in Moscow (we don't have miniatures shows). I've seen several participants with dollhouses and miniatures on the photos, but it wasn't enough motivation for me to go there. My husband is also doesn't really like these shows, and my Mum couldn't come to visit me.
But there was one show, my husband just couldn't miss. It's called MITEX – Moscow International Tool Expo. Usually it takes place in November. The registration and tickets are free.
It was my first visit to Expocentre, so I didn't know where is the hall 4 and 5, and why these halls located on the ground floor and halls 1, 2, 3 are on the first floor. First of all we went through the halls with Chines stands, there were lots of them, and I mean LOTS, I read a number something about 300 companies were participating. Almost all representatives knew Russian very well, somehow I wasn't surprised at all. Nevertheless, there were almost no visitors there.
In the rest of the halls you could find Russian and European companies, like Metabo, Bosch, Festool and rest. My husband found a new disk saw from Bosch – oh, no! The new one, our's old now!  I also found the tablesaw (also from Bosch) I heard so much about on Russian model-makers forums. It's huuuge! I'd need a workshop for it, definitely.
The next find was Proxxon – we've found there only one visitor who had some problems with their scrollsaw, representative from the company was saying that there was nothing wrong, just the wrong tuning.
Then we saw a huge crowd around the stand with planes and other hand tools. Oh, I forgot to mention girls in the center of the hall dancing topless!:)
This is the stand with antique planes and tools: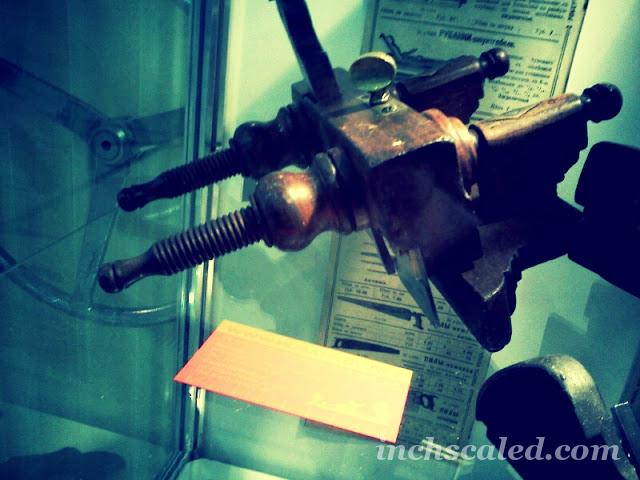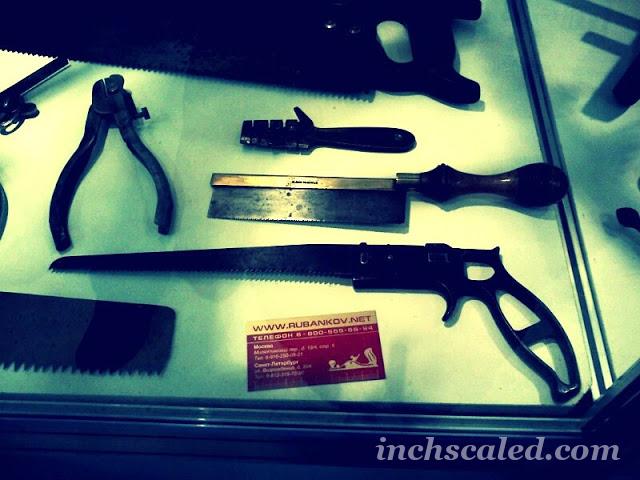 I wanted to buy Veritas planes but wasn't lucky to be honest.
Couple of stands outside: