Author: Виктория, March 2, 2010 в
Roombox
thought I would never post the parts I was just playing with, but never say never.
Last two days I was trying to find a design for the window, I looked through several books in Russian concerning modern style and also several Flickr groups. Result – hundreds of photos saved, basic concept was chosen.
The walls in my roombox are 1cm thick, so I decided to use walnut, just because it perfectly matched my pattern. It was 2,5mm thick, and I made some mistakes: first of all, I glued the pattern against the grain (hope it's the right term), and secondly, the walnut I was using was too fragile, and IMO was overdried.So the window was "broken" – it just fell apart. Why, why did I do all this? I have no idea, I knew it wouldn't work. Besides, I don't have experience working with walnut, maybe you know – is it the material I'm using or is it about walnut itself? Instead of trying to fix it I decided to use mahogany – I worked with it when I was building the table, so I knew what to expect. And, no surprise, it was okay. I've managed to cut the whole window, this time the pattern was along the grain (hope that was my main mistake).
I'm not going to use this frame – now that I know that mahogany is my choice, I'll start all over and cut the details separately, after that assemble.I need two frames, so it's a lot of work:)
As you can see, I'm making it in art nouveau style, I feel so nervous about it, this should be my first time experience, and I'm not sure about the result. Hope I'll make it work.
Sorry for not updating the blog for so long – I had wonderful weekend away from computer.:) Besides my holidays are over and I'm back to writing my graduate work. It will be my second diploma.
But I manage to find some time for my doll's house. I've finished making window frames. It looks okay for the beginning, I haven't painted it yet  – just did some sandpapering. It will be all done after I choose the veneer for the exterior.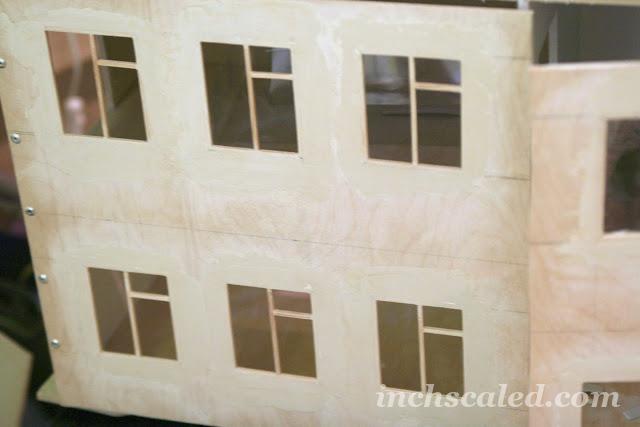 There will be a balcony on the second floor, oh well, I haven't made it yet))