Or read this in Russian
I'm working on commissions lately, lots of work and I practically have no time for my own projects. And it's +20 outside, spring has come at last!  Love this time of year.
Recently I came across Natalia's post about bobbin lace, I always wanted to try it, even started making my own bobbins but realized that it was taking too much time, so I dropped it. Two weeks ago I decided to try again, I ordered bobbins set and roller pillow. It was a fantastic experience for me. Though I realized that the bobbins I was using were only good for Russian (Vologda) lace, where thicker threads are used (mainly linen), and I was more interested in Bedfordshire lace. So I made two pairs of English bobbins, spangled them, I also made  a block pillow, which worked just fine for me.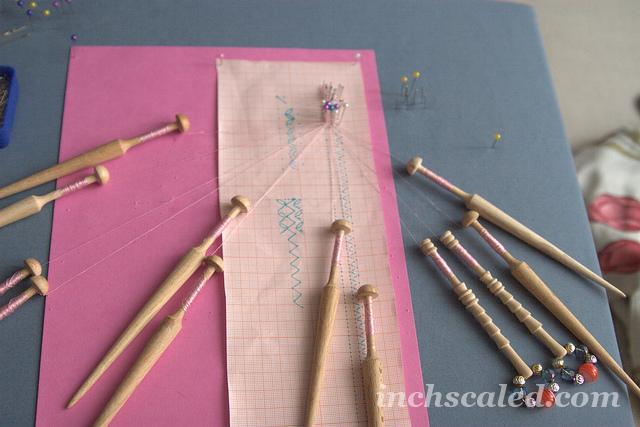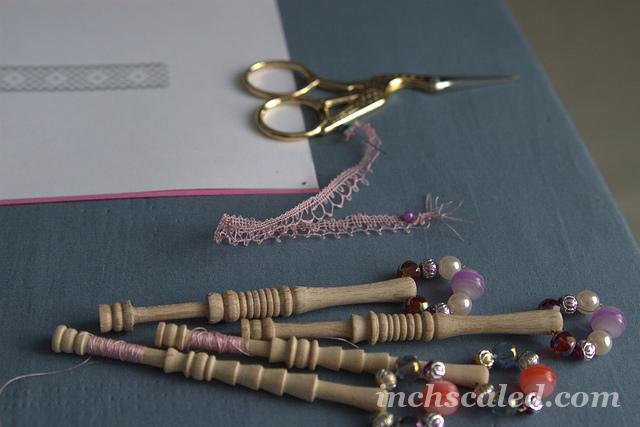 Here's my first try with a silk thread, it's 9 mm wide lace. A bit too wide for this thread, but I'm working on it 😉 I decided to take it slow and learn  the basics before trying to make it in miniature, so I'm afraid it will take some time to show something new.