Or read this in Russian
I was going to write this post later next month, but I'm happy that I'm doing it now. All these months I was  posting pictures of the furniture I made for the commissioned roombox and now I can show much more. Here's a teaser:
This is "The chess players" by  Cornelis De Man, 1670, it is now exhibited in the museum of fine arts in Budapest. And this is the picture I'm trying to copy in miniature. It's a commision for The Museum of Art Miniatures, Loket, Karlovarsky kraj, Czech Republic.   You can find its Facebook page here – it's a fascinating project!
After so many months of work I don't even know where do I start,  besides it's still WIP.What I can tell for sure  – I was very excited to get my hands on this project. I've never done anything like this before, so you can imagine how happy I was to get such commission. Some details on this picture are missing, so you could only guess or find them on the other pictures by de Man, as he was painting the same room several times.
I started with working drawings. It was a bit difficult with this peculiar perspective, proportions etc, so I decided to take players' faces as a reference point. Then there was Sketchup drawing with the sizes of the room and furniture. I also decided that I would use mahogany for the walls because of its perfect color and shine, and cherry wood for furniture – it has finer grain, lighter in color so it would make a good center point. Another decision – to make all the interior and furniture first and only when the dolls are finished (also the rug) – to stain and varnish them.
So today I decided to post several pictures of the fireplace, the roombox is not finished yet, but all your comments are welcome. The fireplace is all made of wood, the upper part – mahogany, lower – basswood, painted as faux marble. Here's the first try: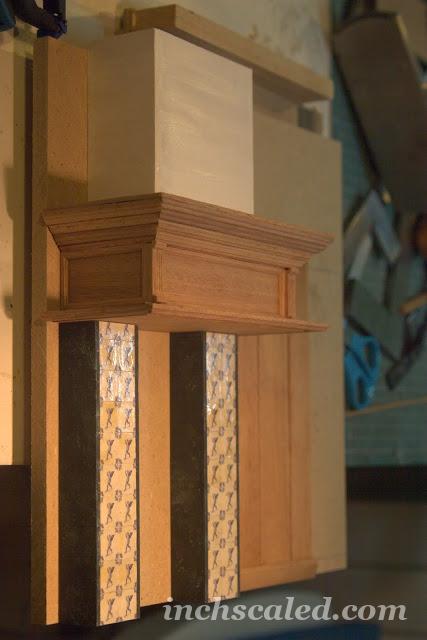 If you look closely you'll see that all the tiles were the same, I found the pictures on one of the antiques sites with dutch 17th century tiles. Later I was offered to add some more tiles to make it looked a bit more detailed. I thought it was a pretty good idea, so here how it looked like several days later.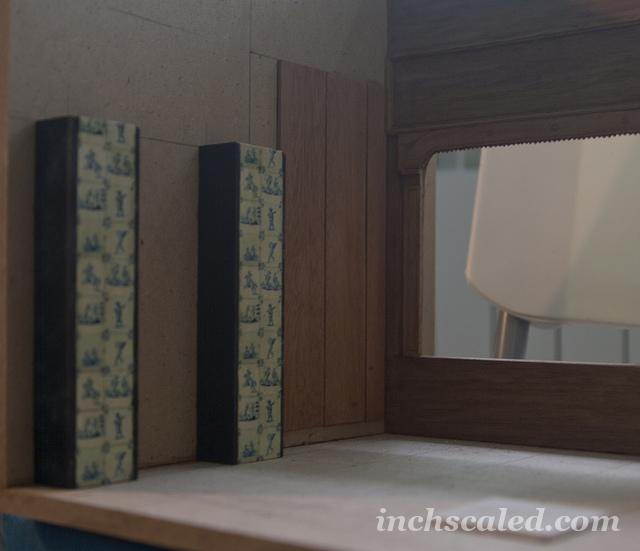 The colunms were turned on a lathe and then trimmed on a tablesaw. The hardest part with this fireplace was quite complex molding. I had to cut several profiles with simple router bits and then combine them together.
So back to the picture, notice anything? 🙂 The owner of the roombox, me, my husband, nobody noticed anything for months! 🙂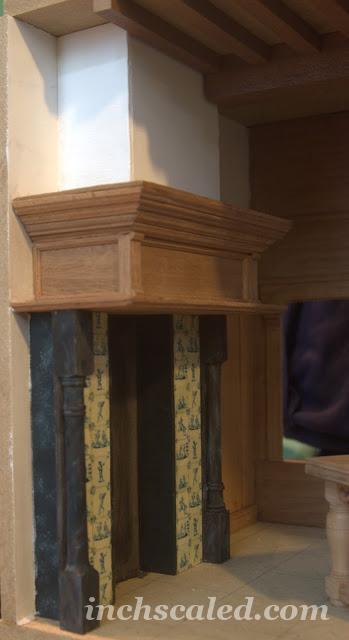 And only the last week when I started varnishing it I saw the mistake – the closest column was installed upside down! 🙂 But even when I said that there was some mistake to my Mom and husband they didn't notice it. So glad I found it! I have no idea how I could miss it.
Here's the fireplace now: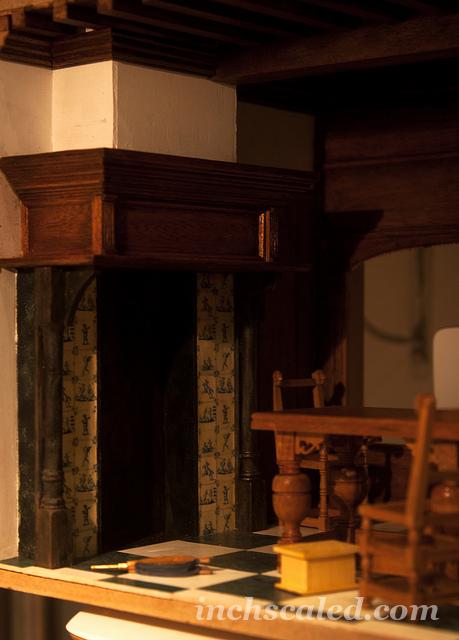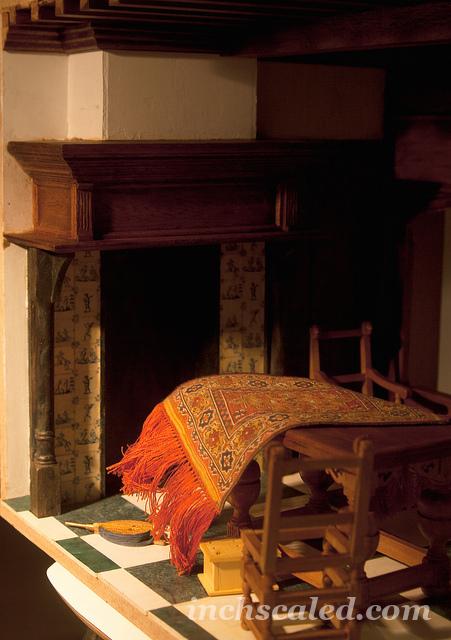 I need to add couple of pictures on it and chimney is too perfect. Also – the rug, it's magnificent, it's made by Natalia Frank, but there will be a special post about it.